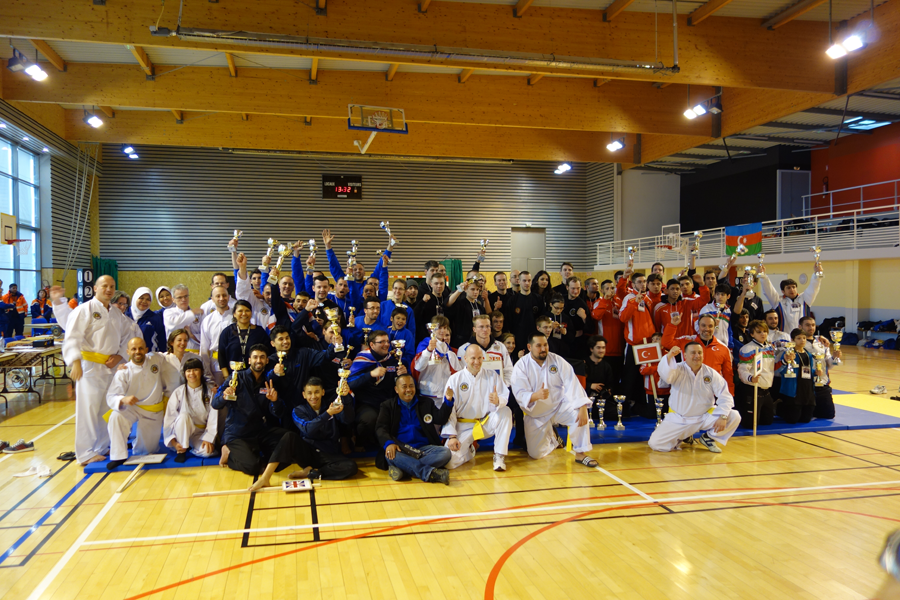 68 athletes from 8 member countries took part in the Championships which took place on the 16 - 17 March 2013 in Espace Albert Fol, Valleiry, France. The Championships were organised by the European Pencak Silat Federation (EPSF), hosted by the Association France Pencak Silat (AFPS) and supervised by the World Pencak Silat Federation, - Persekutuan Pencak Silat Antarabangsa (PERSILAT).
Participating Countries
Austria - 2 athletes
Azerbaijan - 11 athletes (Adult, Junior & Pre-Junior)
France - 17 athletes (Adult, Junior & Pre-Junior)
Germany - 21 athletes (Adult & Junior)
Russia - 3 athletes (Adult)
Switzerland - 2 athletes (Adult)
Turkey - 6 athletes (Adult)
United Kingdom - 6 athletes (Adult)

The EPSF is very grateful to Bapak Teddy Suratmadji, the Secretary General of PERSILAT, for his generous support and encouragement, and also to Bapak Erizal Chaniago and Bapak Tafsil Rimsal of PERSILAT, for their valuable guidance and advice regarding the conduct of the Championships, and of the pre-championships International Wasit Juri course. The EPSF is also grateful to Mr Asnadi Bin Robani of PERSISI, who on behalf of PERSILAT, conducted the International Wasit Juri Course and examinations with distinction, and also for his great contribution as ITD (International Technical Delegate). The EPSF would also like to extend its appreciation to Sheikh Alauddin and PERSISI for providing two experienced Wasit Juri, as well as the ITD for the Championships. The EPSF's appreciation also goes to AFPS for hosting the championships, and special appreciation goes to Badriah Hosni-Puntel and her team for doing most of the organising on the ground.