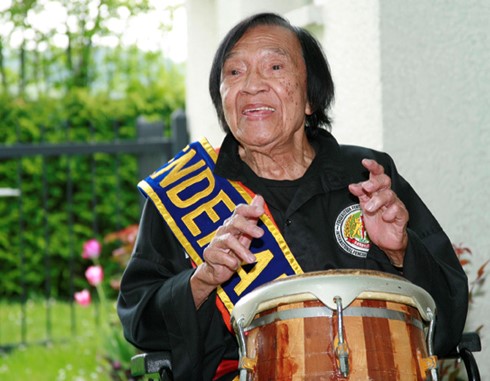 Bapak Haka Tahir was born 1918 in Gorontalo, North Sulawesi, Indonesia. As one of the pioneers of Pencak Silat in Switzerland and Europe, he dedicated his life to developing the art, teaching Silat for over 58 years.
Bapak Haka Tahir had learnt silat from a young age, starting off with the style of Silat Langga in his village. In his teenage years he had moved to Bandung, East Java to further his education and training. While in Bandung he had the opportunity to learn various styles of Silat, eventually starting his own club by the name of Haka Tahir Pencak Silat. This was a combination of different self-defence techniques commonly used for street fighting as well as weapons training. During World War II, Bapak Haka Tahir was captured during the Japanese occupation of Indonesia, and spent time in a Japanese concentration camp where he used Silat to keep his spirits up and for his survival. After his release, Bapak Haka Tahir made his way to Holland, where he lived for 3 years, training to become a sports teacher, and then finally to Switzerland in 1949, where he opened his silat school in Zurich. Bapak Haka Tahir lived his life dedicated to maintaining the culture of his homeland, and spreading Silat within Europe, teaching close quarter combat to Swiss Army officers in the 1970s and opening over 10 Silat schools in Switzerland which still remain until today. During all his years of teaching, his enthusiasm for Pencak Silat and his zest for life were always undimmed.
After the European Pencak Silat Federation was established in 2001, Bapak Haka Tahir agreed to become a member of the EPSF Council of Elders. In 2009 he was awarded the PERSILAT 'Knight of Honour' Title at a ceremony at the Indonesian Embassy to Switzerland in Bern. Bapak Haka Tahir could really be said to be the father of Pencak Silat in Europe. His courageous spirit, his influence, and his work in building the Pencak Silat community in Switzerland and in Europe cannot be overstated, and he will be greatly missed.